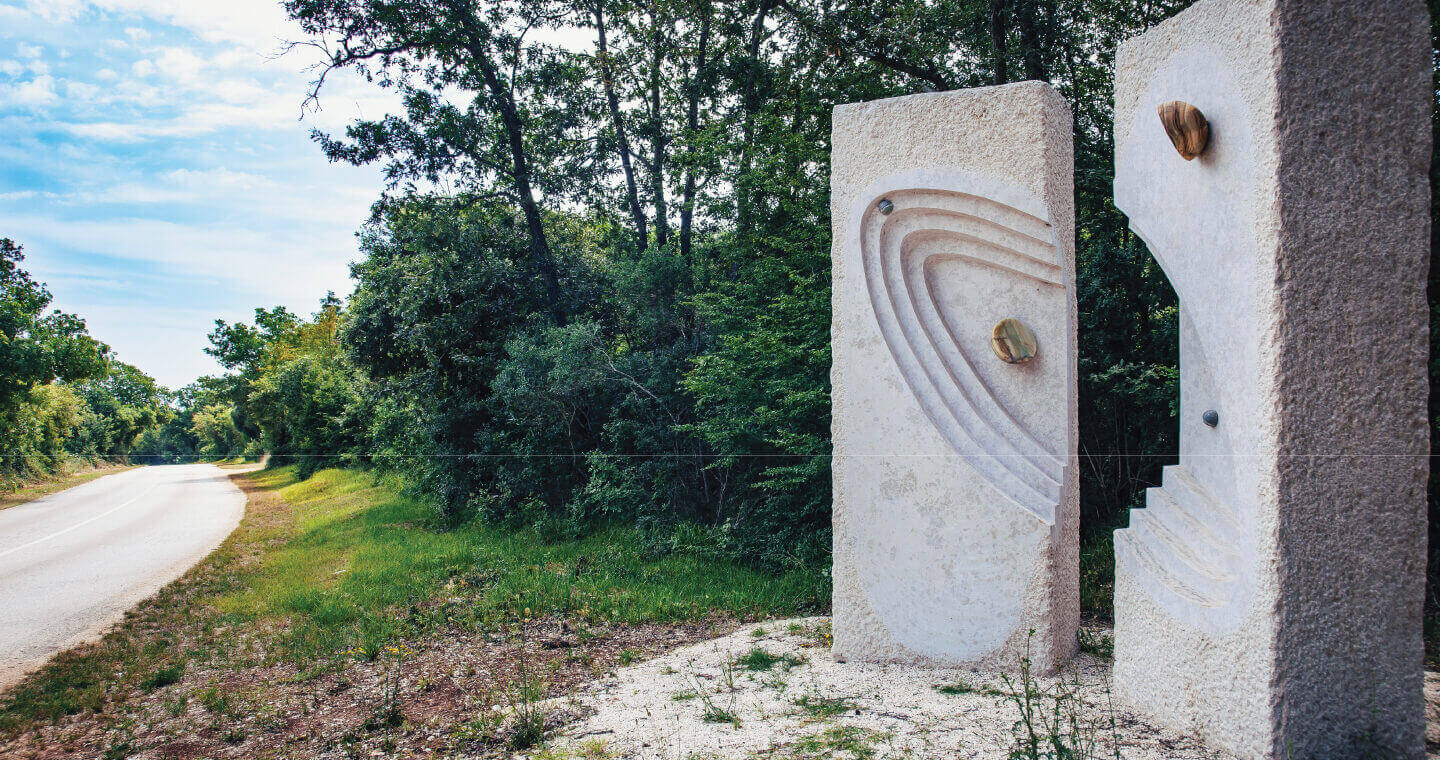 Visitors will see that in the Istrian countryside a particular material that can be found practically everywhere is stone. This is one of the materials many people would like to have at their disposal to produce works of art as it will of course remain intact and secure over time.
It was suggested that people capable of producing creative sculpted works should be involved in the project. Together with their teachers, young artists in the process of graduating at various sculpture schools and academies immediately accepted the proposal and opportunity offered by the collaborators of Mon Perin entrusted with creative activities. An artistic programme was planned and immediately referred to as the 'Boulevard World Genius' project, conveying the idea of a road dedicated to great geniuses who, with their work have left an indelible mark in the history of mankind.
It was decided that a series of large monolithic sculptures dedicated to the lives and works of some of the world's great thinkers should be created in Istrian stone. The envisaged works would have a height of 3 metres and a base of 1 square metre. Leonardo Da Vinci and Nikola Tesla were the first illustrious figures deemed worthy of having a symbolic work of art dedicated to them.
This exciting and bold artistic enterprise has resulted in the creation of a fascinating 'boulevard' of geniuses. The sculptures are situated along the 5-km route between the roundabout just outside Bale Valle and the Mon Perin camping site.
Placed at the sides of the road and surrounded by oak and strawberry trees, these curious apparitions in the Istrian-style maquis setting include monolithic sculptures dedicated to such famous figures as Christopher Columbus, Galileo Galilei, Mahatma Gandhi, Nelson Mandela, Albert Einstein, Charles Darwin, Marie Curie, Hypatia, Aristotle, Walt Disney and Sir Timothy John Berners-Lee. In a work in progress the structures dedicated to these famous men and women now appear close to those representing Leonardo Da Vinci and Nikola Tesla.
The 'Boulevard World Genius' may actually be considered a new kind of tourist route, however it is not an itinerary that will specifically attract cyclists or those who want to dedicate their time to trekking; this venue is more likely to be highly appreciated by those who want to peruse the exhibits of an open-air modern-art museum.
We have recently received many telephone calls at the Mon Perin reception offices from people who want to express their appreciation and praise the initiative. We are often asked to provide further details about the stone works and the callers express their surprise when they learn that someone under the sun at Bale has succeeded in uniting the forces of such schools as the Accademia Albertina in Turin, the Academy of Fine Arts in Venice, the Academies of Fine Arts of Brera, Milan and Academy of Fine Arts in Bologna, the Academy of Applied Arts at Fiume and the Academy of Fine Arts in Zagreb. We have also spoken to people who informed us that they have personally met the mentors of the young artists, Giuseppe La Bruna, Massimo Pellegrinetti, Emanuele Giannetti, Claudia Maria Farina, Goran Štimac and Nenad Bilić.
And then … if anyone out there feels that a combination of colours might be better than simple white stone surfaces, at the end of the route yet another surprise awaits them. Large murals have been magically inserted in the green and blue backdrop of the camping-site area. These works form part of the previously mentioned 'work in progress' and are the result of an equally ambitious project developed by Maria Mancini, who directs the 'Open-Air Colours' project, which is essentially a painters' workshop where other artists openly express their visions, adopting a wide range of painting techniques.
There's a piece of advice I might give to travellers, although it's perhaps not entirely devoid of an element of self-interest: during a spell of warm weather you might leave behind the halls of the 'traditional' museums and visit the most beautiful open-air museum in the region, going for an 'artistic walk' along the Word Genius Boulevard.