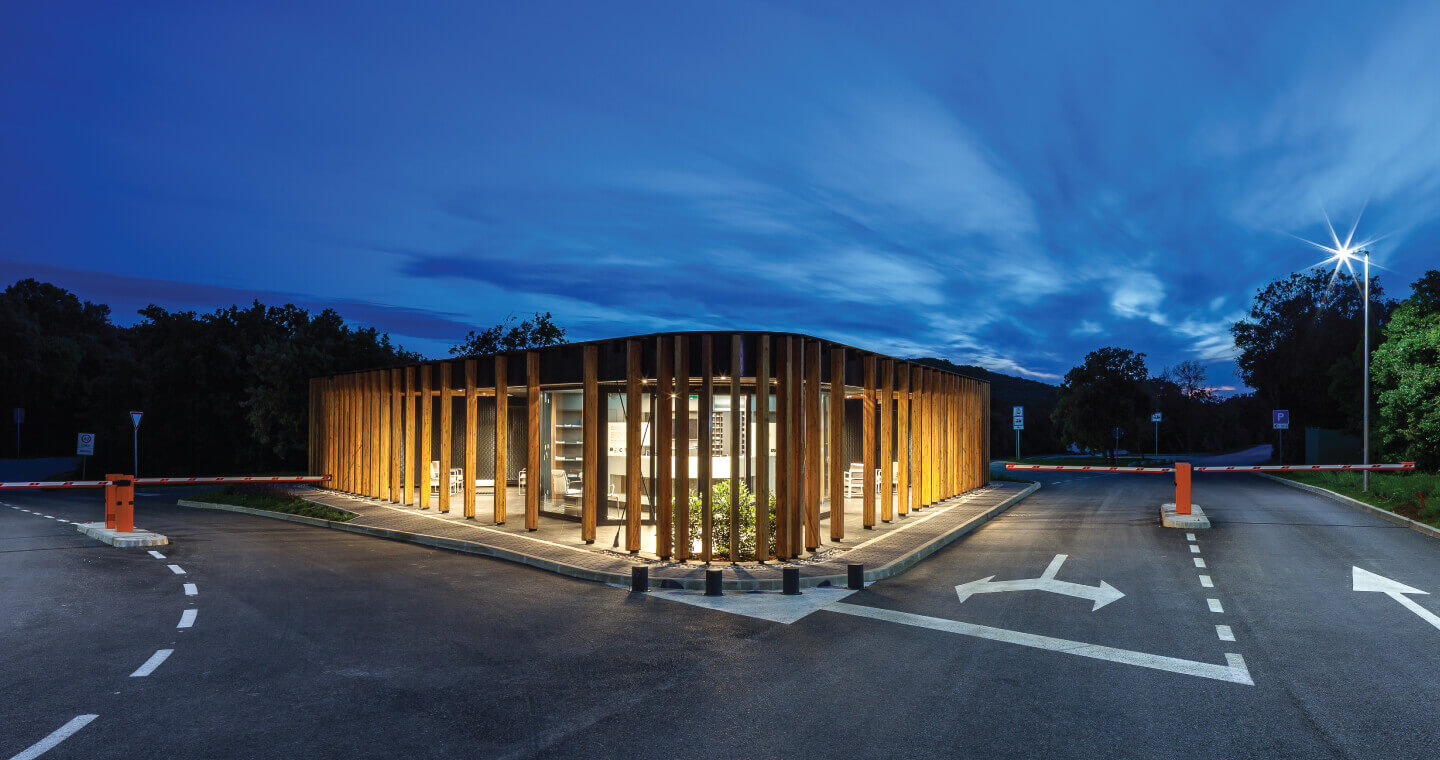 This pride of place, in the company of several luxury hotels, is the fruit of 4 million euros invested in renovations done in 2015 and 2016 that improved the campground's quality immensely. Thanks to this extensive work, the campground has risen from the two-star to the four-star category.
The restructuring project was assigned to NFO, an architectural firm in Zagreb.
The architects faced a difficult task due to the geographical layout of Bale-Valle, where the campground is located, which made construction difficult. The town is located halfway between Rovinj/Rovigno and Pula/Pola, and is bordered on one side by a nature reserve and by archaeological ruins on the other. What's more, existing structures could be rebuilt but could not be expanded, as the previous surface area had to be maintained.
The architects addressed these issues with professionalism, reaching the goal of four stars.
The campground's reception, located between the two camping areas (San Polo and Colona), was built on the foundations of the previous building. It was given a modern triangular shape, and a pergola was added to shelter newly arrived guests. The pergola also connects the reception with the offices where Mon Perin's managers work during summer months.
The campground's new restaurant, Porto Bus, enjoys an advantageous location near the beach, and replaces the old restaurant, Budo. In this case, only the size of the previous building was retained. The new restaurant has a roomy beachfront terrace and a playground for children. A stage can also be added for summer concerts.
Last, the campground's bathrooms were completely renovated. This was the greatest challenge because, while the campground needed more bathroom services, as with all the other structures, the building's size could not be increased. The architects found an excellent solution, building four masonry bathrooms in the San Polo area and four bathrooms in HPL panels in the Colona area. While the previous bathrooms were entirely enclosed, the new ones now have an enclosed part for personal hygiene and privacy, and an open area for washing laundry and dishes.
Thanks to all these and others improvements (such as the fresh market and many new mobiles home), today Camping Mon Perin and the town of Bale-Valle have become one of the most attractive tourist destinations in all of Istria.