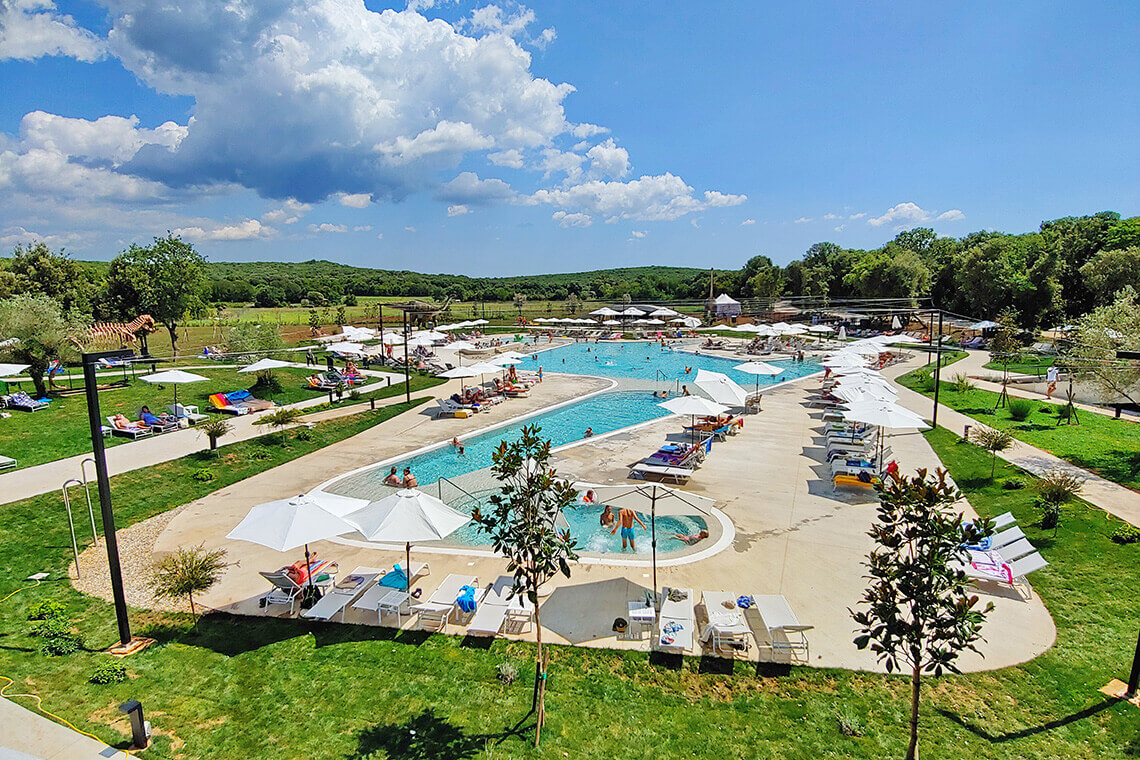 Fun without time constraints for all.
Paleo Park s much more than just a simple attraction. Anyone who has ever spent a holiday at Mon Perin knows very well what it means to indulge in relaxation, entertainment, good food and dinosaurs.
Yes indeed, Paleo Park marks your stay in Istria as it knows how to satisfy the need of every holidaymaker. For example, if you travel as a couple, 3 pools and 1 Jacuzzi promise pure relaxation. Moreover, there is a 3,000 sqm sunbathing area that offers a perfect exposure to sun. On the other hand, two facilities cater for your food and refreshment needs throughout the day.
And on top of all that, you can always go for a walk amongst the park's archaeological finds.
A reference point for families.
Knowing that their kids are having fun makes parents feel relaxed and that's when another holiday starts for them. Paleo Park has an animation team on site called Dino which makes your kids happy. It organizes lots of games and activities, both indoor and outdoor, from June to August. A 16,200 sqm facility welcomes families and hosts birthday parties and social dance evenings, ensuring that the only thing on your mind is fun.
A dino-proof school.
Paleo Park has a path dedicated to the ancient rulers of the Earth. With just a short walk through the park you'll be able to take a closer look at the bones of dinosaurs that once roamed these areas poking out of the sandpit.
Moreover, the Birikina Association within the park organizes workshops where kids can make their own souvenirs to take home and enjoy animation shows.
Sustainability as a guide
Respect for the environment is not an exception but a rule. Nature is a value for Mon Perin, as well as for the whole Istria. That's the reason why Paleo Park (link pagina sito) has been developed to blend in perfectly with its surroundings. The original features of the landscape remained unchanged and actually make an integral part of the structure