Luxury Glamping Villas Resort Porto Bus
Choose your luxury vacation in Istria. Immersed in nature and set in the vicinity of the sea, these glamping villas will provide you with spaciousness and privacy.
Exclusive glamping villas by Mon Perin
Comfortness, concierge service and sophistication are the highlights of these Glamping Villas. They are located in the picturesque bay of Porto Bus, where a relaxing and luxurious vacation is guaranteed. At Luxury Glamping Resort Porto Bus, everything suits your needs, perfectly.

Located in the proximity of the Adriatic coast and surrounded by Mediterranean nature, our Luxury Glamping Villas Porto Bus represent a unique choice for your holiday in Istria. Only a few minutes from Rovinj, Croatia's top tourist destination characterized by first-class dining offers, villas are designed to provide seclusion within natural green surroundings, with all the benefits of a modern tourist destination at hand.
Main characteristics
Close proximity to the Adriatic coast and Porto Bus bay
Free entrance to the Porto Bus swimming pool complex
Concierge service
Private electric vehicle included in the price
Locally grown organic fruits and vegetables - delivered twice a week
Airport transfer included in the price (PUY) for stays of 7 days or more
Max. capacity 6 guests (4 adults + 2 children)
Do you have questions or need help?
Tel: +385 (0)52 894 0021
Email: [email protected]
Characteristics, services and benefits
INDOOR EQUIPMENT:
Fully equipped kitchen (oven, dishwasher, refrigerator with freezer, stove, microwave oven, coffee machine)
Spacious open space for dining and living room
All bedrooms and the living area are air-conditioned and equipped with ceiling fans
Wi-Fi internet access
Large LED satellite TV in the living room + ready Netflix
Iron, ironing board
Washer/dryer
Bed linen and towels included in the price
Safe
Hairdryer
Two spacious private bathrooms with showers
Two spacious rooms
OUTDOOR EQUIPMENT:
Private pool or private hot tub
Spacious partially covered terrace between 80 and 88m²
Outdoor area for sitting, relaxing and dining
Sun deck with deckchairs
Spacious garden up to 1.000 m²
Free parking near the villa
SERVICES INCLUDED IN PRICE
Concierge service
Private electric vehicle available during the entire stay
Free entrance to the new Porto Bus swimming pool complex
Locally grown organic fruits and vegetables - delivered twice a week
Animation program for children (at the Paleo Park pool)
Electric car charging station
Bed linen and towels - change on request
Baby cot and high chair (on request)
Barbecue (subject to availability)

ADDITIONAL SERVICES AND CONTENTS (extra charge):
Restaurant and Pool Bar Porto Bus
Organization of private tours
Organization of car rental service
Cleaning on request


Accommodation not available for selected dates: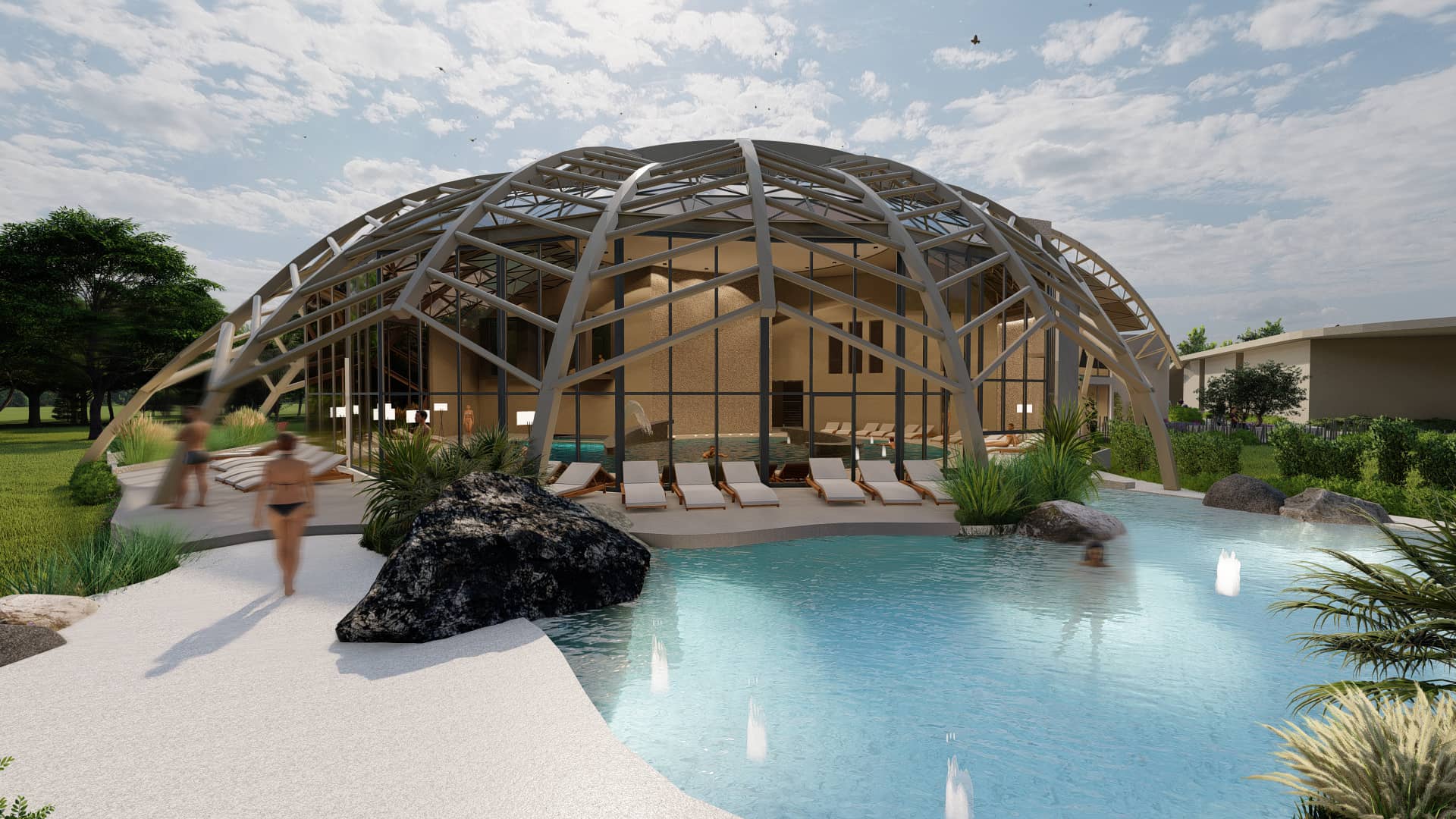 Saltwater Oasis Wellness & Spa
The new Saltwater Oasis Wellness & Spa centre with unique design is a place where you can relax and revitalise your body and soul in a very special atmosphere. Our pools offer a magnificent view of the surrounding nature, while enjoying your unforgettable wellness experience.

Spring 2024.