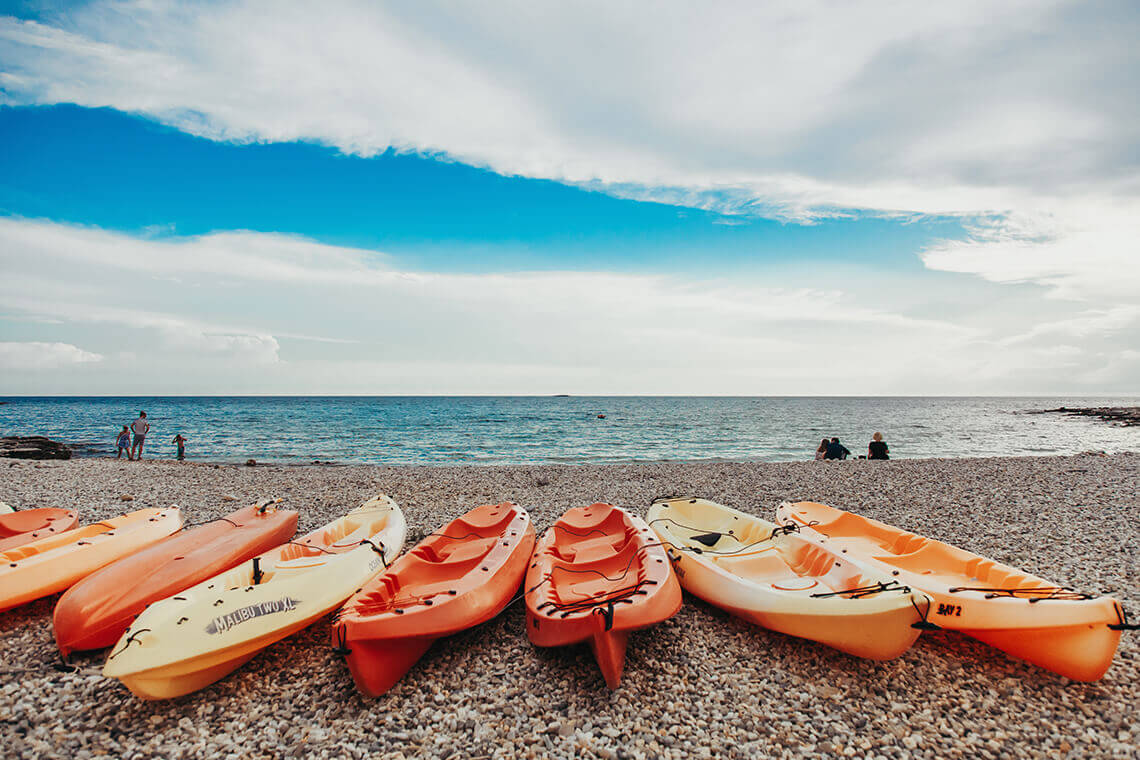 Keeping fit with a smile on your face.
Are you looking for an active holiday? Bale-Valle offers a number of activities to keep sports enthusiasts entertained and invites you to try your hand at bocce, keep fit on gym equipment, take a horseback ride along the Camping Mon Perin pathways, play tennis, football games, beach volleyball, attend diving school courses, windsurfing lessons, indulge in stand up paddling, sailing and a lot more.
Experiences for all ages.
The atmosphere at the Camping Mon Perin inspires a sense of total relaxation but of course there are also many opportunities for engaging in a variety of activities for adults and children.
The natural environment and the sea around the Istrian peninsula are treasures to be explored. Our guests may want to take a boat trip to watch the dolphins or enjoy relaxing walks through natural parks.
Then, within the area of the camping site you'll be spoiled for choice. Options include bike tours, football games, tennis, bowling, beach volleyball, mini golf and zumba fitness dancing. And for children? For children there are playgrounds, inflatable floating toys, the fun and excitement of an open-air cinema, the Paleo Park and its many attractions.
There is also a 'Mon Perin Wind' Sailing School. It has ten sailing dinghies (of the 'Optimist' and 'Snipe' classes) for all ages and levels of preparation.
Those who love or would like to try horse riding can depart from the Albachiara Ranch to explore on horseback the surrounding flat countryside or coastline.
For those who attend the diving school courses the sea has so much to offer. Very popular activities are underwater excursions to explore the nearby shipwrecks, including the Baron Gautsch steamer.
The Bale-Valle Fitness Centre, a large gym recognised at the international level by winning the prestigious WAF award in the SPORT CATEGORY at the WORLD ARCHITECTURE FESTIVAL held in Barcelona in 2008, as a very innovative facility, offers physical exercise and gymnastics rooms and a spa area.
If you're looking for a regenerating Mon Perin holiday, come to Bale-Valle.