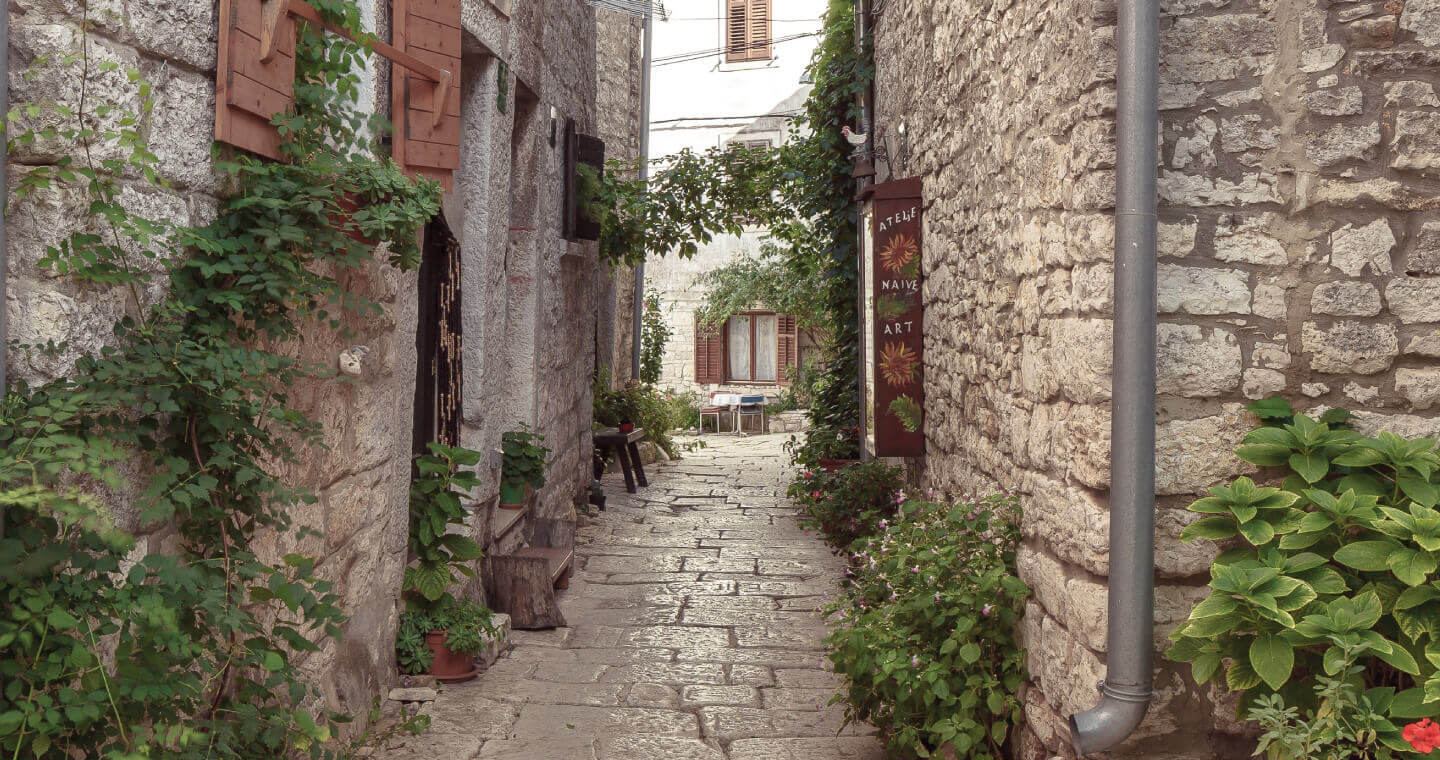 Characterised by a small number of inhabitants, rich history and the Scandinavian-type cosy lifestyle, Bale is considered by many to be an unusual blend of what is best in Istria and what makes it unique and unparalleled.
This is why many people think of it as the cosiest place to live in Istria. Picturesque, colourful and romantic, it has become a dream come true for anyone who wants to find real contentment in the place they live or visit as tourists.
Situated about twenty kilometres away from Pula and its Arena, the world-famous tourist attraction, to its south, and bordered by the breathtakingly lovely Rovinj to the north and Brijuni, the most beautiful archipelago in the Adriatic, to the west, Bale is different, quiet and unassuming; it is starting, however, to get increasingly renowned.
BALE – a place where past and present coexist; there is the butterfly as its trademark, there is Casanova, who seduced local girls, there are Freemasons, who meet here, there is the most beautiful sports hall in the world and the site with 200-million-year-old dinosaur fossils, and there are amazing military fortifications over 100 years old.
With butterflies as it trademark, which even have their own sculpture at the town's entrance, with the world-famous seducer Casanova, who is said to have satisfied sexual desires of perky Bale women under their roofs, with Freemasons, who have traditionally gathered here, Bale has quite a different quality and energy from similar Istrian towns. It is unique and pleasant, completely true to itself and exceptional in what it offers to tourists, which is not just superb cuisine and the pleasure of consuming food and drinks of highest quality – Bale has taken everything a step further, to a completely different level. And until recently it was one of the least developed Istrian municipali- ties with a limited budget.
In the early 2000s, a group of local people shared a vision and some innovative ideas on how to change their sleepy town and turn Bale into a successful and sustainable local community. All the inhabitants of Bale became co-owners in a community project titled Mon Perin, which is the local name for the eponymous hill. In this way its inhabitants promoted a unique model of joint ownership, the management of local resources, and joint investment, which is an example of absolutely innovative local development. In a way, this model of the development of Bale through Mon Perrin as the generator of its development preceded the concept of the now world-recognised and famous crowdfunding by a full decade. This is Bale now, but what about Bale in the past? It is a place rich in history: there is an important site of fossilised dinosaur bones that are 200 million years old.
Bale boasts the largest art gallery in Istria, a bird reserve, and a bird museum. It is incredible that in such a small town with barely a thousand inhabitants there is literally the most beautiful sports hall in the world, having received this flattering title in Barcelona. But perhaps this town's greatest value and attraction are its perfectly preserved military forts, built between 1898 and 1914 and situated on the southern part of its shoreline. This attraction of unprecedented proportions is gradually becoming a place of rich and varied cultural life. One by one, the forts are going to be put to use in different ways, ranging from music and art workshops to top performances and con- certs. Military fortresses, it is planned, will in the near future serve as a backdrop for film and various reality show productions. Anyone who wants to experience a slightly different Istria, which is not preoccupied with the number of tourists and crowds but enjoys a multitude of fantastic and compelling stories instead, will either move to Bale or will start, and continue, visiting. Bale is a magnet that not only attracts but also keeps everyone interested.