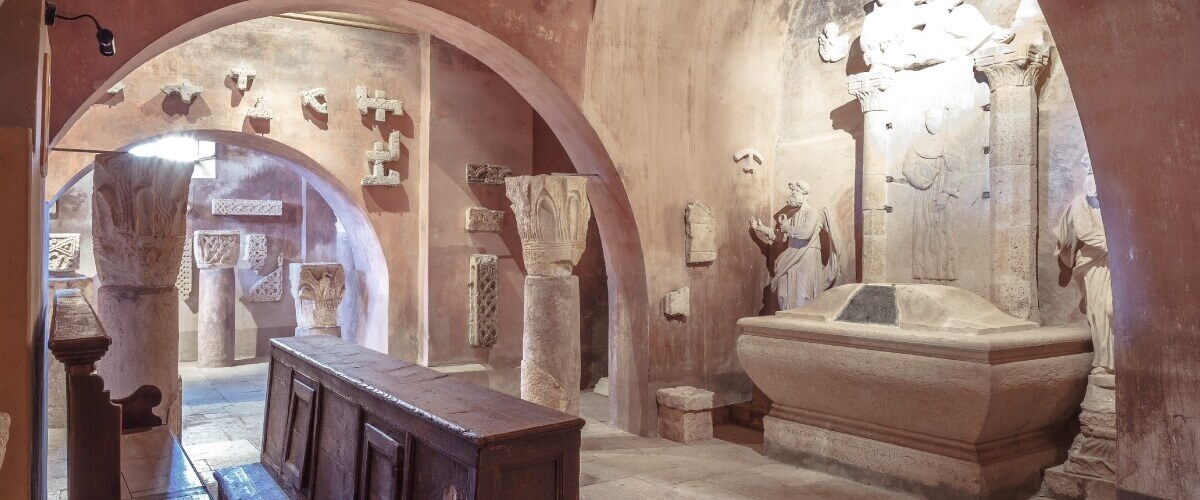 The lapidarium might erroneously be mistaken for a cemetery, but its true meaning actually lies within its etymology. From Latin lapis ("stone"), it is a place where stone monuments are exhibited, often including stone epigraphs and statues.
It may be part of a museum exhibition or constitute an autonomous exhibition.
In the history of museology, the first private collections of antique stone monuments existed as far back as the 16th and 17th centuries.
This one at Bale Valle is an example of a contemporary lapidarium, which was placed in the crypt of the parish church to replace the old one from the 19th century in 2002 (Ivan Matejčić & Miljenko Jurković, 2002).
Structured according to the most stringent rules of museology, the lapidarium includes discoveries of recent research and is, in a nutshell, a "container" of numerous remains of the basilica itself and other important findings.
The findings include stone sculptures, decorative elements, and tombstones from the classical Roman period to the late Middle Ages. The crypt boasts, among other things, a 11th century wooden altar and a 7th century stone sarcophagus with the remains of Blessed Julian, patron saint of Bale Valle.
It is highly likely that this may be the reason why our parish church is commonly identified as St. Julian's Church. Many finds have not yet been identified, although catalogued and clearly visible in a peaceful and mystical atmosphere. A visit to the crypt offers a moment of inner peace away from the busy rush of everyday life.
The crypt moment is really a moment to seize.
Discover all the attractions that this medieval town of Bale has to offe.