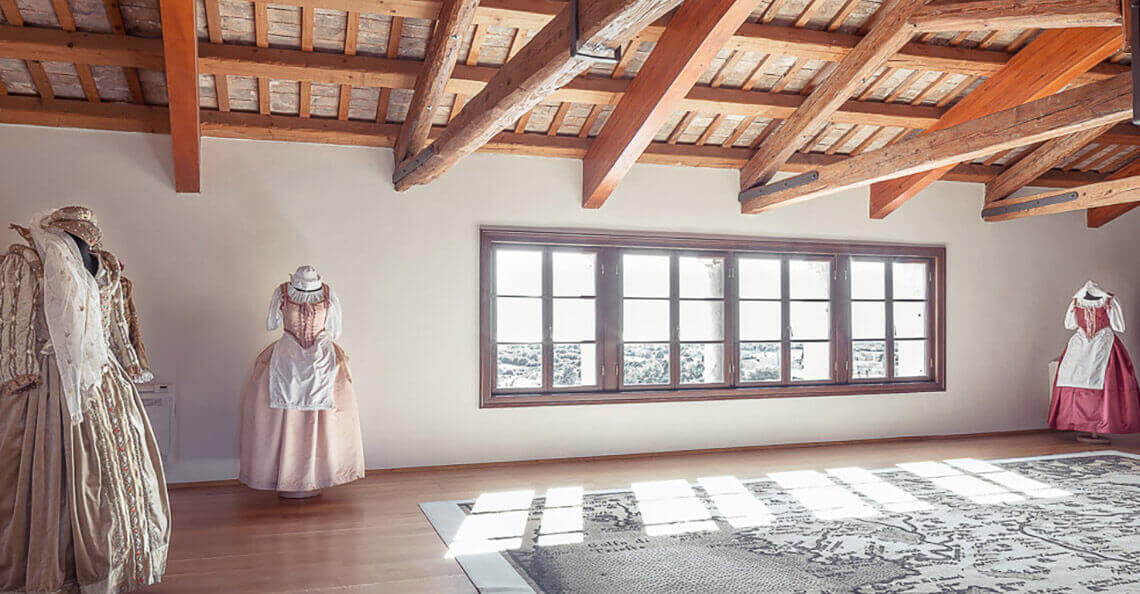 The Soardo Bembo Castle is the most impressive building in the entire area. It can be seen while travelling along the Via Flavia, the ancient Roman road which connected Trieste to Pula. With its two quadrangular towers erected in the fourteenth century the castle still retains all of its medieval charm.
Apart from the other existing windows, the twin towers now also present Gothic single-light windows (previously covered in mortar) which greatly enhance the architectural composition and were restored during reconstruction work that was carried out in 2002.
On the left tower, in addition to the single-light windows the coat of arms of the Nadal family was restored and made visible. Dating back to the 15th century, the heraldic emblem had also been covered by plaster.
The work carried out to restore this stately home and its interiors also brought to light prestigious frescoes probably dating back to the eleventh century or even earlier.
During the restoration work the most surprising discovery was that the origins of the castle actually date back to the Bronze Age. Underground excavations and the removal of overlapping layers of materials revealed the existence of an ancient fortress. Beautiful fragments of ceramic objects and a small hand-mill used to press grain also bear witness to the existence of the original structure.
The beautiful cistern and typical city walls created with very large stone rocks remind us of the Roman presence in the area. Other beautiful ceramic works and metallic domestic objects date back to the medieval period.
The Soardo Bembo Castle is a precious treasure chest of great cultural and historical value that charms you at first sight.
Discover more about Bale-Valle clicking here